Symmetry is found everywhere: from the smallest details to the most sweeping views of the world around us. When roaming the streets, we see it on buildings, cars and people. We hardly notice its presence, as we are so used to seeing and recognizing symmetry. It no longer surprises us. However, we are not used to a symmetry that "invents" new things for our eyes, created with the purpose of forming images that are different, unusual, fun and, sometimes, playful.
This entire collection draws inspiration from Aloísio Magalhães' cartemas. This creation by the Brazilian artist and designer from Pernambuco has been enticing and teasing the imagination of many since the 1970s – it was in 1972 that Rio de Janeiro's Museum of Modern Art hosted the Cartemas (série brasileira) exhibition.
The first to use the word cartema was philologist Antônio Houaiss when facing Aloísio Magalhães' creation with a mix of joy and wonder. This neologism is the result of associating the root cart- (from postcard) with the -ema (as in "minimal structuring unit") particle.
Cartema is a form of visual composition, a montage created from one image (or parts of it). It's a search for rhythm stemming from repetition resulting in a new visual unit in which the original image's meaning is lost. Cartemas are the key that opens photography's door to the abstract.
This is a collection of several books aimed at revealing a new panorama of Brazil, based on photos of varied themes: nature and environment, flora, fauna, cities, architecture and cultural expression. In a different time, many of the beautiful pictures used in this book's compositions would have become postcards. However, postcards have now diminished in popularity. Today, such images can be published instantly, as photography is now within everyone's reach and everything is recorded and shared with a touch of the fingers.
This collection does not aim to be comprised of "100% pure cartemas". Many of the montage principles are similar, but the fundamental substance of the compositions – digital photos instead of postcards – mark an outright departure. Besides, contemporary technology allows for the images to be united in a nearly seamless manner, compared to the jagged edges of postcards glued together, and that obviously helps in "playing with the eye". Moreover: many of the compositions featured herein use mirroring, unlike the original cartemas. On the other hand, the principles of displacing and rotating images, commonly found in Aloísio's cartemas, have been generously used.
About the author
I'm from Rio de Janeiro (a "carioca"), having attended the Colégio Pedro II and Law School at the Universidade Federal do Rio de Janeiro. In the 1980s and early 1990, I worked at Embrafilme and Cinemateca Brasileira (Brazilian Film Archive).
In 1992 I founded Figurativa Editorial and began working particularly with the education segment, with several textbooks published under that label. In 2012 I founded SG-Amarante Editorial, still involved with publishing and producing works of education, but also began publishing original books, such as Motivação e formação de equipes na gestão pública (P. Rodrigues), Sexualidade e transgressão no Cinema de Pedro Almodóvar (A. C. Egypto), Coaching – pessoas ao encontro de si mesmas (Adriana Netto), Advocacy – como a sociedade pode influenciar os rumos do Brasil (Daniela Castro) and a number of children's books.
As for the origins of the Symmetry plays with the eye collection; I met Aloísio Magalhães very briefly in late 1980, shortly before he was appointed Secretary of the Culture Department. As a young student, I reached out to Aloísio, then chairman of IPHAN, with a request of financial assistance for a film club meeting in Mato Grosso. I expected to knock on his door and come back empty-handed. To my surprise, I was met with the utmost hospitality, and my request was fully granted. Years later, through a friend in common, I obtained the catalogue for the Cartemas: a fotografia como suporte de criação exhibition, organized by Funarte soon after Aloísio's sudden death, in 1982. I recognized the author immediately. I had a case of love at first sight with his cartemas, embracing the status of admirer. Too late did I realize that man had something different about him (I was very ignorant of his true value then). From that point onward, I left behind the role of mere observer, and began creating my own cartemas, experimenting with techniques and creating new images. Whenever possible, I would return from my travels with a suitcase full of postcards, investing hours in compositions. With the digital age, the cartemas have gained in strength and trimming, and I have only furthered my experiments…
The time to share them has come!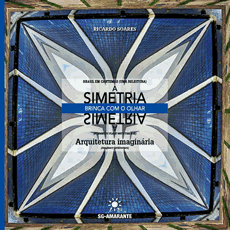 1ª edição – 2017
Coleção de 6 livros
Formato: Livro
Autor: Ricardo Soares
Editora: SG-Amarante Editorial
Categoria: Arte fotografia
Páginas: 48 (cada livro)
ISBN: 978-85-66390-12-4